Product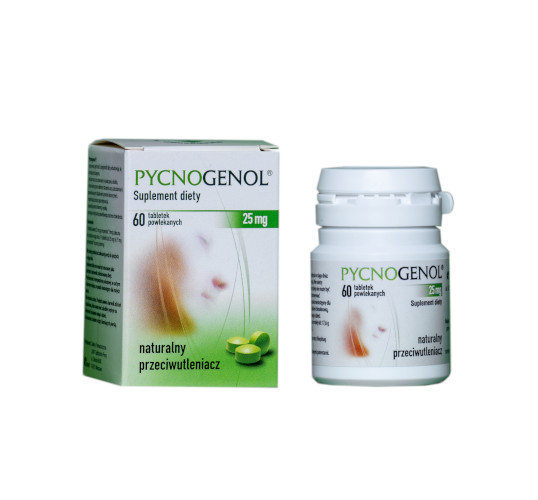 Pycnogenol®, 25 mg, Diet supplement
Product name
Coated tablets, 30 tablets, 60 tablets, 120 tablets
Pharmaceutical form
Previous
Next
Instructions of use
• restores elasticity and firmness of the skin, by becoming a part of the collagen structure,
• used as supporting agent in fighting cellulite,
• protects the skin against results of ageing and defects caused by sunlight,
• supports remembering processes,
• helps in maintaining cholesterol level.
Pycnogenol® is a chemically pure extract obtained from maritime pine (Pinus pinaster), its main active substances belong to a group of bioflavonoids. It is an antioxidant, it has the capability to bind free radicals (they stand as on of the factors responsible for ageing of the organism, occurrence of diseases such as arterosclerosis, increased blood platelet aggregation). Diet supplement may not substitute a balanced diet. It is not recommended to exceed the recommended daily dosage.